Ultimate Immune Support System

Extra Strength
Achieve total body detoxification, immune boost, reduced oxidative stress, neurological & cellular regeneration with our most powerful system yet. Take daily for extraordinary results. Just spray, swish & swallow.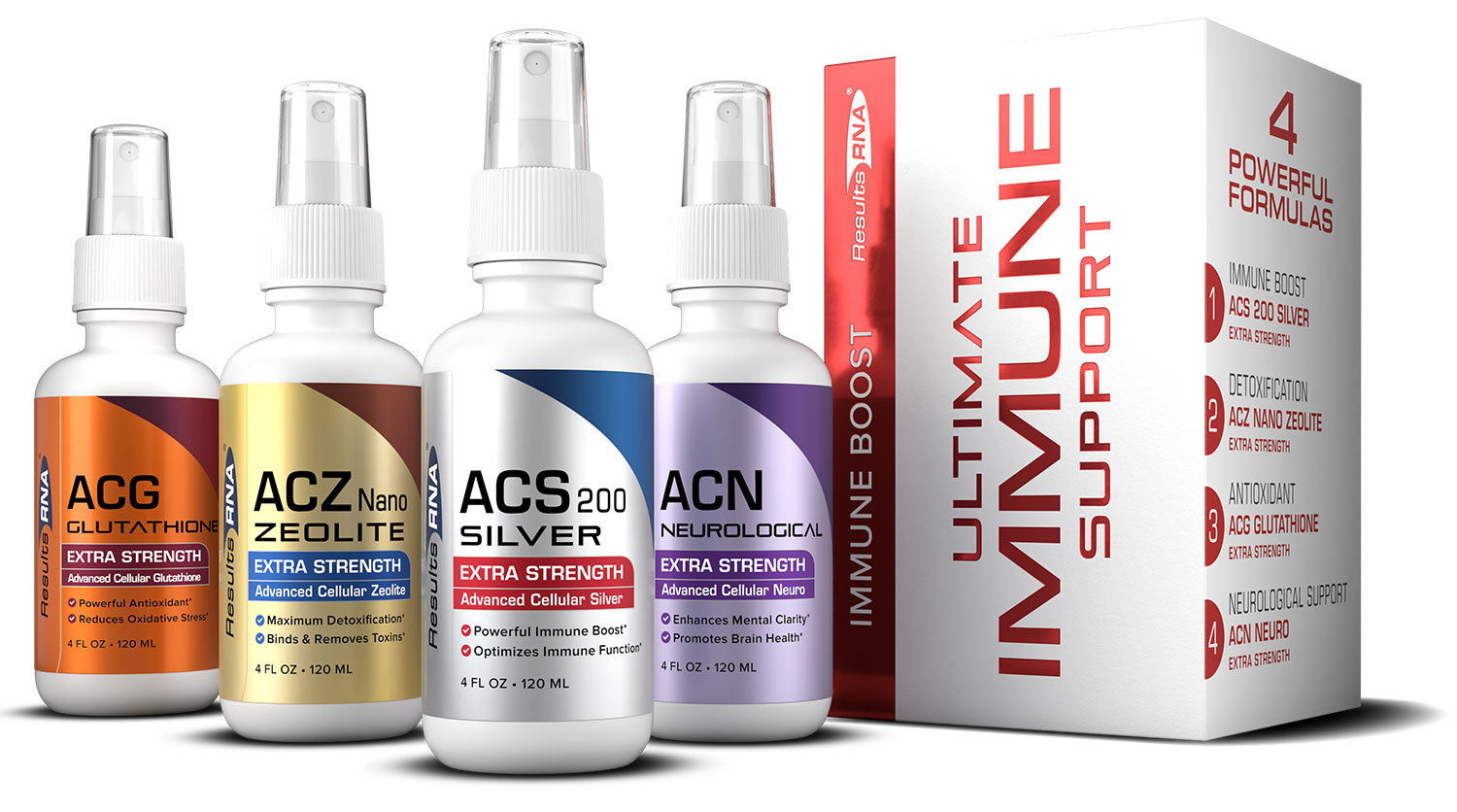 2 oz – $132.99
4 oz – $237.99

2 oz formulas: Provides 30 days of support when administered at the standard dose (6 sprays, twice daily)
4 oz formulas: Provides 60 days of support when administered at the standard dose (6 sprays, twice daily)
2 oz – $132.99
4 oz – $237.99

"The Ultimate Immune Support System changed my life."
– Ron L

"Ultimate Immune Support definitely helps me…been using for over a year. When I have run out, I really notice a difference!"
– Julie S

"These products, HANDS DOWN, changed the course of our family's life. I will never know how to thank this company enough. Keep doing what your doing! Blessings!"
– Connie B
CLICK TO READ MORE REVIEWS

"I ordered this Immune System kit, received it last Tuesday, and I do notice a difference in how I feel, and I've only been spraying 6 sprays a day, not the twelve required, and just that amount helped me feel better, especially the cognitive issues, so excited, I TRULY RECOMMEND this Immune package!"
– Donna B

"I take the RNA Immune support sprays. They work!! I was without the product for about three weeks before reordering. Worst mistake I made. I will never be without this product again!!"
– Kim H

"I use this, it is a great product!"
– Donna C

"Great item! Use it regularly!"
– Dorothy C

"Simple to use."
– Kirsten R

"I have been on the Immune Support ( 4 bottles ) for about 2 weeks now… felt better the first week. It seems to be working…"
– Bob D

"I noticed a huge improvement."
-Phil T

"My family uses your products daily in our regimen- particularly the glutathione and zeolite sprays. These are staples in our home, I couldn't tolerate many other binders until we were told about these sprays."
– @Wheatgrass_warrior

"I believe this is one of the best products out there. My doctor recommended this to me. He deals with immune system concerns and is very knowledgable. He told me this is a reputable and proven brand and I have to say ever since, I feel much better!"
– Hannah D

"This stuff works well for me!"
– Darlena G

"Took me 4 1/2 months to get to full dosage. I'm up to 12 sprays tomorrow. I was driving my 12 yr old to school this morning and said "I want to whisper this but…I feel normal" After 15 years!!! Yes still dealing with daily crashes but having windows of my old self. Just received 2 more kits. I'm stocking up. Thinking about getting a year's supply, afraid it won't be available. I'm so grateful I found this!"
– Mary L

"This is marvelous as it gave me my life back, feeling good again. I do not believe these reviews from people who say they got no results."
– Aaron T

"Seems to be helping"
– Stephen E

"My health is a constant battle and I will keep using this program as long as I live!"
– Bettie S

"This is the go to product."
– Cassidy M

"Results RNA turned my life around. Get this stuff! The colloidal silver does the trick."
– Rossana T

"I felt more energy the day after starting the sprays in the Ultimate Immune Support. And I feel better each day. I am looking forward to the future now."
– Satlnder K

"I highly recommend Ultimate Immune Support! I'm also taking the Joint spray. Peace."
– Jill M

"I'm alive & healthier than I've Ever been. I will always use your products. Thank You So Much!"
– Cassandra S

"Not enough room here for all the accolades!!"
– Donna C

"These products made it simple for our entire family, and we had better results than with any other plan!"
– Nikkoly S

"I use the Immune Support kit and I feel better. Soooo Happy."
– Betty P

"I've been taking these for the past month. They taste good, that's the very first thing I noticed. 😛 I still experience a few health problems, but it's way better than it used to be! 🙂 I have a job for the first time in years!
– Danielle B

"I am currently using Ultimate Immune Support. Has made a huge difference in my life. I am back working hard and improving!"
– Duane H

"I am impressed with this well rounded product. I feel like ACS 200 has helped me in getting my health back. I'm not 100%, but definitely feeling better."
– Ellen P

"High praise! I have never felt better since I've started your Ultimate Immune Support !! I'm back! Thank you so much!!"
– Nancy W

"I've been using ultimate Immune support for almost four months and the results are beyond amazing. I still have a ways to go but I have hope back in my life… thank you RNA."
– Shawna C

"14 days today! I have much more energy! I have planted pansies and mums and painted planters and patio furniture in the last week!! I am so excited to be morphing back into who I used to be!!!"
– Connie R

"I use the Ultimate Immune Kit and it works like gangbusters. I love Results RNA!"
– Jeff M

"My husband's health was in danger. He tried Results RNA. Amazing results. We purchased another set of 4 and he actually stopped using it. The danger has gone to rest."
– Donna D

"It has truly worked like a miracle. So glad my husband tried it! He will definitely stay on it also."
– Shelia W

"Been using for 3 weeks….ordered more. Haven't felt this good in years."
– Maryann Y

"I first heard about Results RNA from a friend who had found them online. I was sure it was too good to be true because, after all, if they were all they claimed to be, everyone would know about them by now. And their products can be ordered online without a doctor or a prescription. But I was desperate. We use their ACS 200 Silver for Lyme and the ACZ Nano for detox and it is amazing stuff! I also use their ACG Glutathione and it is great as well.This is definitely worth the money.
– Cara D

"Ultimate Immune support has helped me a lot. This year is the first time I can do pretty much everything I couldn't do be before!!"
– Diana F

"I had a positive experience with ACS 200. I would definitely recommend it…"
– Ed W

"This product has absolutely saved my life …Literally noticed a difference the second day of taking the product."
– Randy D

"Just have to tell you how already impressed and thankful I am with this series of sprays. I have only been using them for just over a week along with the supplements I had been taking for 4 months prior and the difference is amazing. Thank you so much for these wonderful products. I can already say I see the light and the tunnel is getting shorter by the day."
– Chris H

"Love these products I take all 4 together has really helped. Using 6 sprays twice daily. Thanks for creating!"
– Kathy G

"I am blown away by how well it works, I started with 6 sprays but immediately backed off to 3 until I could handle the potency and I've worked my way up to 8 twice a day now but I'm on the extra strength protocol. I can breathe again, which sounds silly…but I haven't been able to breathe right for almost a year. I have seen so many doctors that I had given up hope and I am beyond thrilled with my results so far. I felt a difference the first day. It works amazingly for me!"
– Nichole M

"It does work I'll never be without it!"
– Jennifer G

"This does work! Really well actually. It really helps the body function. Good luck, everyone. May health and high functioning days be in your future!"
– Patricia W

"Don't give up no matter what!! Keep spraying! Everyone is different, some people get great results right away, me? It took a couple of months for me , I almost gave up … So glad I didn't!! Best wishes."
– Lynae H